Coming to

Amazon and wherever books are sold – the thrilling conclusion to the Weir Chronicles Series



Available February 15, 2018
DIM THE LIGHTS

Book Five: The Weir Chronicles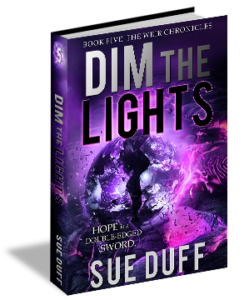 ISBN $ 987-0-9970156-9-0 for paperback and ISBN # 987-0-9970156-8-3 for hardback
Battles rage across Earth and it's alternate universe as Ian and Rayne risk their lives to recruit unlikely allies while the rest of the rebels search for a way to exploit their enemies and save both planets. Don't miss the explosive conclusion to the critically acclaimed The Weir Chronicles series! Amazon

STACK A DECK

Book Four: The Weir Chronicles
ISBN # 987-0-9970156-5-2 for paperback and ISBN # 987-0-9970156-4-5 for hardback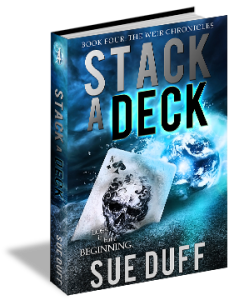 Ian's alliance with the rebels brings the wrath of the Pur army crashing down on them, but he is forced to abandon his new allies to fend off the assault and travels to Earth's alternate universe to rescue Rayne. As Ian combs the strange, desolate planet in search of her, he discovers the true history of the Weir and his connection to Earth's imminent destruction. Amazon

SLEIGHT OF HAND

Book Three: The Weir Chronicles
ISBN #978-0-9970156-1-4 for paperback and ISBN #  978-0-9970156-0-7 for hardback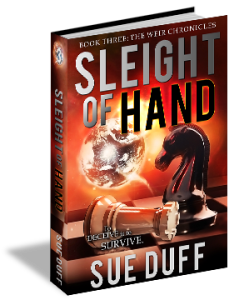 The rebels poison Ian and it's up to Rayne and Patrick to find a cure before their friend succumbs and Earth's fate is left in the hands of adversaries intent on taking control of the planet. To obtain answers, Rayne must travel to an alternate world where few survive as Patrick unearths the secrets of the rebels and discovers a truth that shatters his beliefs about the Weir and the future of Earth. Amazon
MASKS AND MIRRORS
Book Two: The Weir Chronicles
ISBN #978-0-9905628-4-9 for paperback and ISBN # 978-0-9905628-5-6 for hardback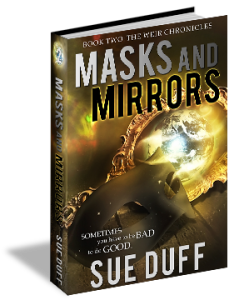 Ian Black's commitment to safeguarding Earth has come at a price. His career as an illusionist is at a standstill and attending to the planet's needs has distanced him from his best friend, his guardians, and the woman he loves. When presented with an opportunity to perform, Ian seizes the chance. But moments before he takes the stage, Ian encounters the mysterious Jaered and a rebel force fighting to protect Earth alongside the Weir.
Jaered is determined to stop a malevolent Weir from releasing a drug capable of wiping out the last vestiges of their race and plunging Earth into self-destruction. But when Jaered is willing to sacrifice an innocent child to obtain the drug for himself, Ian risks everything to uncover the secrets of the rebel forces and their true intentions for Earth's survival. Amazon

FADE TO BLACK
Book One: The Weir Chronicles
ISBN # 978-0-9905628-0-1 for paperback and ISBN # 978-0-9905628-1-8 for hardback.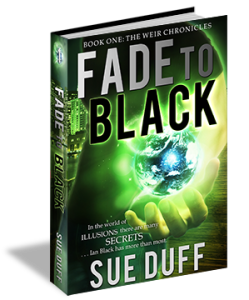 Ian Black is an illusionist with a talent for keeping secrets. College student Rayne Bevan has a gift for uncovering them. She suspects the popular performer's skills extend beyond the stage and that he's the area's mysterious and elusive defender of the innocent.
In her efforts to uncover the truth, she is swept into a hidden world of the Weir, a magical race who struggle to prevent Earth from self-destructing. Her inquiries expose Ian to those who would kill for his connection to the planet, and as he fights to keep Rayne safe, they discover a force behind the Weir's raging civil war – a traitor bent on launching Earth's Armageddon. Amazon

Read the latest chapters from the novel, available on Wattpad @ http://www.wattpad.com/62672064-fade-to-black-book-one-the-weir-chronicles-chapter

For more information on the novels and the upcoming novels in the series, visit my Writing Process Blog Tour post.
Available on Amazon for Kindle & print versions, Barnes & Noble for Nook & print versions, iBooks for Apple devices, Smashwords for most other e-readers. Or order print copies through your local bookstore.