A Cook's Guide to Writing – Dinner Guests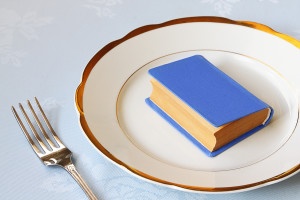 I've come to appreciate that crafting a tasty meal doesn't mean as much if it's consumed by only the cook and no one else. The effort isn't as satisfying when leaning against the kitchen counter and eating it out of the pot it was cooked in. Using a plate doesn't add that much to the ambiance. The whining, begging pet at your feet may count as a companion, but is a far cry from a dinner guest. Face it, the drooling mongrel would devour anything short of cardboard, and consider it a feast. I'm not looking for praise, although it's nice to hear, but there's something worth the energy when your cooking gets them off the couch, lifts their noses from their cell phones, or prompts a friend to slip shoes on and drive over.
Self-publishing your first novel is like inviting the in-laws to your first Thanksgiving-cooked dinner — only worse. Mashing potatoes like a pro didn't prepare me for baking my first turkey any more than my website blogs have prepared me for my first novel release. I was realistic when I created the website and posted some of my favorite pieces. My visitors would be few and those that did show up, would be kind. I knew where most of them lived. But self-publishing a first novel is so, so different. I've put more blood, sweat and energy into it than all the combined holiday meals one can squeeze into a lifetime.
But it's time to stop eating alone in my kitchen. I've psyched myself up and I'm ready to send out scores of invitations, as scary as it is. We all have fear of throwing a party and no one comes. I'll treat it like a perpetual Open House. Leave the door open for anyone who wants to steer up my walk and take a peek in the door. I might get a few stragglers dropping by, others over time, but in the end appreciate serving someone a scrumptious meal of my own creation.