A Cook's Guide to Writing – Potluck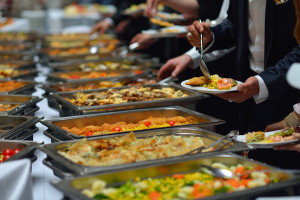 Who doesn't love a great potluck? The anticipation of who'll bring what? A smorgasbord of decadent gluttony just a scoop away. Those that love to cook often bring the best dishes. Mainly because those that love to cook also secretly aim to impress. Everyone benefits and there's always something you can't wait to dig into. Guests wander by, checking out the countless offerings on the table while hiding their drool behind a sip of wine. Where to begin? The most appreciative are the first to grab a plate and start down the line, taking a little of this, a little of that, knowing that if they taste something delicious, a return trip can always be in their future.
Anthologies are no different. We pick them up because we can sample so many different writers and stories in one place. Some of the authors you may have sampled already and love their writing. Others may be new to you and under any other circumstance, you might have passed up their work without a second thought. But with so many different authors and samples of their storytelling, you can be confident that you'll come across a gem or two, or more.
I've written this post to commemorate the launch of Wicked Ink Books' inaugural anthology, TICK TOCK: Seven Tales of Time. Check out my novella, Duo'vr and all the other wonderful stories by fellow Colorado authors by picking up a copy on Amazon. If you like what you taste, chances are you'll sample our other dishes. After all, you will have discovered what great cooks we are.