Dedication to Family and Craft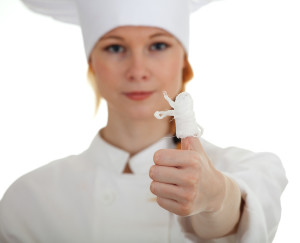 I bought a new kitchen gadget, yeah I know, what a shock. In my defense it does what four of my old, on-their-last-leg appliances do, so in the big picture I'll be saving kitchen cupboard space once I toss or sell the others at a garage sale. Anticipation nearly bowled me over because it arrived just in time for my hosting Easter dinner.
Word of advice – Don't get up after only three hours of sleep to use a brand new kitchen gadget with sharp blades, in this case many, many sharp blades. I sliced a gouge into my finger almost as deep as the Grand Canyon. I've been there, many times, I'm not exaggerating, not really. After wrapping it with the most absorbent paper towel I owned, I secured it with the longest bandage I could find. After cleaning up the alarmingly large drips of red all over my house (the search for the before mentioned items took me everywhere), I resumed with the meal prep. Once done, I worked on my website (I have a deadline this week) and then returned to the meal prep.
I figure once my company leaves, I might find an urgent care open and look into stitches since the darn thing won't stop bleeding. Good thing I have a fresh roll of the most absorbent paper towel I could buy. But I am running out of long bandages.