A Cook's Guide to Writing – Steep the Bones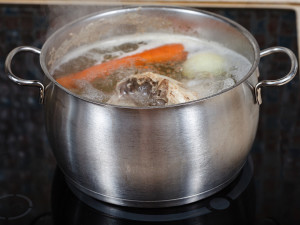 Any good cook knows that what ends up in the bottom of your frying pan or what's stuck and dangling from a carcass holds the most flavor. If you don't gag at the sight of gristle or turn away from stuck-on onion and blackened meat tendons, you'll make an awesome chef.
My mother taught me that the drippings from searing and browning the outside of a roast is what makes gravy so delicious. Juices brimming with the seasonings you added while cooking that roast in the Crock-pot all day could end up as broth for the Jambalaya later .
Exhausted as I am after Thanksgiving dinner, I painstakingly pick at the turkey bones, but I won't carve off everything I find. A stew pot the size of my last electricity bill will take care of that. A day-long process that works best when the slight chill in the house begs for the warmth of a gas stove sputtering at low heat all day long. As the turkey carcass enjoys its time in the hot tub, its flavors create the most tantalizing broth while the last of its tender morsels swan dive into the juicy water. A good strainer will allow you to pick out the unwanted particles. A painstaking process but so-worth-it in the end.
Such is editing. If you have a first draft the size of Montana, I'm betting your fingers still twitch in your sleep. Fattened from that gargantuan meal, you need to take the time for it to settle. Get up, stretch, take the dog for a walk, do the dishes or, in my case, ignore them until the smell forces you to deal with it. Take that well deserved break. Then, and only then do you sit down in front of what you have. See what stands out, get rid of the gristle and trim the fat. Steep the bones. The process requires patience and a willingness not to lift the lid too often because if you do, some of the flavor will escape and you might not get it back. Take your time. Keep focused, imagine the outcome and strive for it. You'll be left with a great base of drippings that you can then turn into mouth-watering gravy. If you're lucky, you might have something leftover that you can use for a second or third dish.